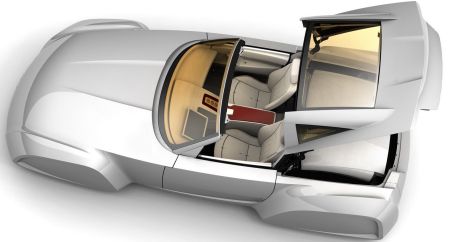 Leftovers van Genève. Magna Steyr, de Oostenrijkse dochter van autoleverancier Magna International (de laatste tijd vooral in het nieuws vanwege de interesse in Chrysler), toonde op de Autosalon een interessant klapdaksysteem waarmee je je coupé-cabriolet (CC) in 4 verschillende configuraties kan uitvoeren. Het is in principe een hard-top die uit 2 verschillende, onafhankelijk beweegbare onderdelen bestaat, waardoor alle configuraties mogelijk worden.
De Mila future kan zo als Coupé, Roadster, Landaulet (retro!) en Copster fungeren.
Voor de gelegenheid hebben ze het dak op een futuristisch bodywork gezet.
De Mila in de verschillende configuraties:
(bron: autoblog.it, via Carscoop)
Het persbericht:
At the 2007 Geneva Motor Show, MAGNA STEYR is presenting MILA Future, an automotive sculpture that is reduced to a forward-looking design and fully functional roof system. This unique system can be used to show four different roof configurations on one vehicle – a world first.

If a roadster has a retractable hard top (RHT), its back does not usually lend itself to classic coupé lines. When the roof is closed, the trunk volume is generally satisfactory, but when open the storage space may be reduced by up to half. Many of the retractable tops common today require a rear deck cover that opens in the opposite direction to travel to accommodate the roof – making additional motors necessary. MILA Future offers a variety of innovative ideas and demonstrates the development team's creative potential at MAGNA STEYR and MAGNA Car Top Systems in a number of interesting details.

MILA Future: the world is adaptable, but always open – four variants in one vehicle

MILA Future coupé:
A characteristic of classic coupés is the flowing silhouette towards the rear. It gives the vehicle an elegant, dynamic appearance that the target group on the market regards as its distinctive feature. In addition to attractive styling, other benefits include fully utilizable trunk volume and protection against wind and weather for the passengers.

MILA Future landaulet:
Landaulets were horse-drawn carriages that had double soft folding tops for driving half open. Thanks to the special design of roof, deck lid and rear window, the Mila Future can be driven in a similarly romantic mode – the rear window is lowered completely, but the roof itself remains in place over the passengers protecting them against direct sunlight. On country roads you therefore feel in touch with your surroundings and if driving faster the airflow is reduced to a pleasant level.

MILA Future roadster:
When the roof is down and the rear window lowered, you can experience real roadster feeling. Compared with conventional solutions, however, the remaining trunk space is 20% larger. This additional volume is created by leaving the B and C pillars on the deck lid as styling elements, which means that the space is not required in the trunk area. The result is a new, exciting appearance and makes this type of vehicle unmistakable on the roads. At the same time, it provides adequate rollover protection – so the typical bars behind the seats are not required.

MILA Future copster:
A combination of coupé and roadster, this variant keeps the roof in the trunk with the rear window in the coupé position. It also serves as a permanent wind deflector and does not require manual mounting. This configuration gives you a sense of safety in the interior without having to sacrifice the open-air feeling.