Veel woorden ga ik er niet aan vuil maken, want er is al zoveel gelekt over deze auto (hier, hier en hier). Geniet dus van de plaatjes en de leer de tekst van het persbericht maar uit je hoofd. Morgen zullen jullie overhoord worden!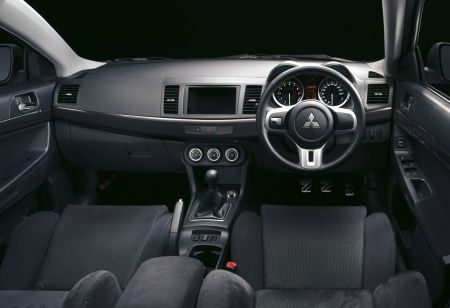 Tokyo, October 1, 2007 – Mitsubishi Motors Corporation announces today that it will launch the Lancer Evolution X high-performance 4WD sedan, newest of the company's legendary vehicles, on October 1 at dealerships throughout Japan. Featuring a new platform, engine, and exterior and interior designs, the totally redesigned 2.0-liter model will carry a tax-inclusive price tag ranging from \2,997,750 to \3,750,600. Models fitted with the Twin Clutch SST transmission are due to be launched towards the end of November.

The development goal for the new Lancer Evolution X was to make the car as fast as possible, while also making it as safe to drive as possible. To that end Lancer Evolution X is loaded with the very latest in automotive engineering technology, including the S-AWC (Super All Wheel Control) vehicle dynamics control system and the newly developed, power-efficient Twin Clutch SST (Sport Shift Transmission). Lancer Evolution X is a new-generation high-performance 4WD sedan that allows a new category of driver access to Mitsubishi's dynamic driving experience by underpinning speed with control, security and safety.

* Lancer Evolution X's handsome and aggressive functional design presents an intimidating and exciting aerodynamic exterior suggestive of its superior road performance. This is complemented by a functional interior that encourages the driver to concentrate fully on piloting his machine. Lancer Evolution X uses the front end design identity common to all new Mitsubishi Motors sedans (inverted-slant nose with a trapezoidal grille design) first seen on the new Galant Fortis*. As well as shouting loud the aggressive qualities that mark a high performance sports sedan, the front fascia is crafted for optimum aerodynamic performance.

* Lancer Evolution X realizes very high levels of motive and driving performance thanks to its new high-output and lightweight 2.0-liter DOHC MIVEC turbocharged engine with aluminum block, an all-new body and stiffer suspension. Despite its turbocharged pedigree the new model earns a 3-star rating for emissions that are 50% lower than the requirements of the Japanese 2005 standards. And complementing its powerful and clean road performance is the kind of a safety specification one would expect of a new-generation high-performance model: SRS dual-stage airbags for driver and front passenger, SRS knee airbag for driver and adaptive front lighting system (AFS) are all standard equipment on the GSR trim level.

* The Twin Clutch SST is a 6-speed automated manual transmission incorporating a dual automated clutch system to deliver lightning-fast, slick shifting for feel-good acceleration; while it also provides high-efficiency power transmission for outstanding fuel economy. In keeping with the higher output and torque developed by the new engine, Lancer Evolution X is offered with a new 5-speed manual transmission that delivers smoother shifting and improved shift feel for those who prefer the joys and more direct control of manual shifting.

* All Lancer Evolution X GSR models are fitted with the S-AWC vehicle dynamics control system. The system intelligently manages several component systems to regulate drive torque and braking force at each wheel, reading and reflecting driver intent in real time over a wide range of situations. This allows drivers of all abilities to enjoy sporty driving with peace of mind.

* Lancer / Lancer EX in overseas markets.

I . Lancer Evolution X walkaround

1. Model lineup

Sporting the S-AWC and Twin Clutch SST and other cutting-edge automotive technology as well as a more comprehensive functional and convenience equipment specification, the GSR trim level (also available with a 5-speed manual transmission) leads the new Lancer Evolution X lineup. The lineup also continues to offer the RS competition base model, with a less comprehensive and simplified equipment specification to reduce weight to a minimum.

To meet customers' wide-ranging expectations in a high-performance sports sedan, the GSR trim level is available with the following option packages:

High Performance Package : Raises the bar a notch further in terms of driving performance.
Stylish Exterior Package : Adds classy dressup elements to the exterior.
Leather Combination Interior : For a more uptown and comfortable interior.
Also available is the Premium Package that combines all these packages and adds 18-inch BBS lightweight alloy wheels to meld the ultimate in performance with a classy and quality appearance.

2. Exterior

The exterior is crafted with sophisticated and aggressive styling to give the low-and-wide squat stance body an aerodynamically clean profile that flows liquidly from the inverted-slant nose over the roof to the tail end, using wind-tunnel proven aero parts.

* Molded around the inverted-slant nose and trapezoidal grille, the aggressive and powerful front fascia features larger air intake openings and new ducting for superior engine cooling and aerodynamics and leaves no doubt as to Lancer Evolution X's high performance.

* The engine hood air outlet and fender vents effectively exhaust heat from the engine compartment. Together with the engine hood air scoop that supplies cooling air to the turbocharger these elements give vivid accent to Evolution X's exterior looks.

* The oversize rear spoiler – standard on the GSR – uses a twisted-section wing panel with different attack angles at its ends and in the center portion to match the airflow over the body surface.

* A large undercover rectifies underbody airflow for better aerodynamics and also improves drivetrain cooling. The underside of the rear bumper employs a diffuser design that helps to exhaust the underbody airflow more effectively and also adds a distinguishing touch to the rear view.

* The Stylish Exterior Package option uses a chrome finish for the front grille lattice and beltline molding, body color-keyed fender vents and adds fog lamps to give the exterior a touch of uptown elegance.

* The GSR trim level is offered in a lineup of five body colors designed to strongly project a functionally aesthetic image and including a vividly sporty Red Metallic and a new classy and deep-hue Phantom Black Pearl. RS is offered in two body colors, including White Solid which is exclusive to this trim level.

3. Interior

The interior design places emphasis on functional and operational elements to encourage and allow the driver to concentrate on operating his machine while at the same time realizing levels of comfort and quality that expected in a new-generation sports sedan.

* Seats are done by Recaro – well-known for providing excellent location, hold, and for alleviating fatigue on longer journeys – with a new full bucket front seat design. The new seats offer additional safety, accommodating the factory-fitted optional SRS side airbag; and comfort, with improved seating feeling, easier exit and entry and a less "constraining" feeling. The rear seats feature a central armrest with handy cup holders.

* Lancer Evolution X uses a small diameter steering wheel designed for smooth operation; its genuine leather wrap provides a positive and comfortable fitment to the hand. For optimum operability the S-AWC mode selector is located on the left spoke. (The selector is located on the shift lever panel on models with the factory-fitted MMCS HDD navigation system option, in which case the steering wheel spokes are used to locate the remote audio controls.)

* Lancer Evolution X uses a high-contrast instrumentation cluster providing excellent viewability. A Multi-information Display provides the driver with at-a-glance vehicle status information, including: fuel remaining, Twin Clutch SST mode, and S-AWC operating mode.

* The dashboard uses a bowed design with the center panel offset toward the driver that provides more knee space and realizes a functional and comfortable cockpit environment for the driver.

* The black interior color scheme uses silver accents on the steering wheel spokes, shift lever panel and other operating controls to impart a look that is sporty and also evoke the feeling of a precision instrument.

* The Leather Combination Interior package uses leather combination seat upholstery (genuine leather with Glanluxe*1), doors and floor console lid trimmed in soft synthetic leather and aluminum front scuff plates. The package also boosts sound insulation, making for a classier and more comfortable interior.

*1: An artificial suede-finish leather made by Seiren Co., Ltd.

4. Powertrain

Engine

* Lancer Evolution X is powered by a new turbocharged engine that adds a high-performance turbocharger to the 4B11-type 2.0-liter 4-cylinder 16-valve DOHC MIVEC unit used in the Galant Fortis. Developing more power over the full rev range, this engine generates more torque at 422 Nm (43.0 kg-m)/3500 rpm and has better response than its 4G63 predecessor. The new engine is also lighter and returns better environmental performance.

* The application of continuously variable valve timing technology (MIVEC) to both intake and exhaust camshafts realizes valve timing optimally matched to engine speed and load to stabilize combustion characteristics and allow the engine to develop more power over the full rev range. It also improves emissions performance. Lancer Evolution X earns a 3-star rating for emissions that are 50% under the Japanese 2005 Emissions Standards levels.

* The new engine, excluding auxiliary equipment, is 12 kg lighter than the 4G63 thanks to the use of a die-cast aluminum cylinder block, head cover and chain case.

* Using a titanium-aluminum alloy turbine wheel and aluminum alloy compressor wheel, the turbocharger features a shape-optimized compressor wheel that improves boost response and increases low-end and mid-range torque.

* The adoption of a rearward facing exhaust manifold layout has, as well as improving exhaust efficiency, allowed the engine to be mounted lower, lowering the center of gravity. Other innovations have reduced intake/exhaust system losses and valvetrain friction, contributing to improved engine performance.

Transmissions

* The GSR is available with the new Twin Clutch SST 6-speed automated manual transmission that eliminates the need for a clutch pedal and provides slick, smooth shifting. Twin Clutch SST puts odd (1st, 3rd, 5th) and even (2nd, 4th and 6th) gears on separate input shafts each with its own clutch and, through tight cooperative control with the engine, switches between these clutches to realize seamless and lightning-fast shifting for feel-good acceleration. Because it uses clutches rather than a torque converter to transmit power, Twin Clutch SST allows superior power transmission efficiency with little loss of motive power and returns excellent fuel economy. Twin Clutch SST allows the driver to choose between Autoshift fully automatic shifting and Manual Shift, where the driver can change gears as with a manual transmission. A toggle switch located at the base of the shift selector allows the driver to choose between Normal, Sport and Super Sport modes for the optimum shift scheduling for a wide variety of situations ranging from driving around town to tracing a tight line on a winding road.

* Twin Clutch SST models are fitted as standard with steering column-mounted lightweight magnesium paddle shifters that allow the driver to shift manually without taking his hand off the steering wheel.

* For drivers who enjoy having more direct control over their machine, the GSR is available with a new 5-speed manual transmission. (The RS is only available with this manual gearbox.) Benefiting from the know-how Mitsubishi Motors has accumulated in the motorsport arena the new manual gearbox features a greater torque capacity to handle the higher torque generated by the new turbocharged engine without growing in size. First to fourth gears use close ratios. 1st gear uses a lower ratio than previously for better standing acceleration while 5th gear uses a higher ratio for more comfortable high-speed cruising. The new transmission uses multi-cone synchronizer rings on all gears for smoother shifting and a more positive shift feel as well as for improved durability.

5. Chassis

Body

* Lancer Evolution X's new platform achieves significant increases in body stiffness, with gains in torsional and flexural stiffness of 40% and 60% respectively over Lancer Evolution IX MR. This results in better handling stability and crashworthiness, as well as in improved ride and in reduced vibration and noise, to realize levels of quality and comfort that befit a new-generation sports sedan.

* Lancer Evolution X's wider track and longer wheelbase not only create a more spacious living space but also bring improved stability and ride. Other factors contributing to the new model's improved handling include its lower center of gravity stemming from the lower powertrain, and better front/rear weight distribution resulting from the lower engine weight, a front overhang that is 20 mm shorter than on the Lancer Evolution IX MR, and the transfer of the battery to the trunk.

* To reduce weight and lower the center of gravity, aluminum is used in the roof panel, front fenders and the rear spoiler frame structure.

Suspension & tires

* While based on the MacPherson strut front and multi-link rear suspension arrangement used on previous models in the series, Lancer Evolution X features a revamped suspension layout with wider tracks and 18-inch tires. Geometry optimization and greater stiffness in the mountings maximizes the contact patch and allows S-AWC to perform to its full potential as well as bringing improved straight line stability, cornering and ride.

* GSR comes standard with 245/40R18 wide and low-aspect tires on 18-inch Enkei 12-spoke high-rigidity cast alloy wheels. 18-inch BBS lightweight alloy wheels are also available as a factory-fitted option for GSR and add a distinctive custom touch with a luster finish.

* GSR comes standard with brembo 18-inch front and 17-inch rear ventilated disc brakes. The increased disc size improves stopping power and fade resistance as well as improving brake pedal feel.

* The factory-fitted High Performance Package comprises the Bilstein single tube shock absorbers and Eibach coil springs used on Lancer Evolution IX MR. It also includes brembo 2-piece disc brakes that realize a saving of 1.3 kg at each wheel and high performance tires with stiffer walls and better grip. This package brings further improvements in grip, steering response, stability and cornering.

4WD system (S-AWC)

* The GSR trim level comes with Mitsubishi Motors' own 4WD vehicle dynamics control system S-AWC (Super All Wheel Control) standard. For Lancer Evolution X, Active Stability Control (ASC) has been added to the ACD*2, AYC*3 and Sport ABS*4 component systems featured in previous Lancer Evolution. S-AWC uses integrated management of these systems to exert high-precision control on drive torque and brake force at each wheel to enhance cornering and stability under all conditions from everyday driving to emergency evasion; thereby producing vehicle behavior that faithfully reflects driver intent. S-AWC offers three operating modes – TARMAC for dry, paved surfaces; GRAVEL for wet or unmade surfaces, and SNOW for snow covered surfaces – allowing the driver to select the mode best suited to current road surface conditions and realize greater stability.

*2: ACD (Active Center Differential)
The Active Center Differential uses an electronically-controlled hydraulic multi-plate clutch to optimize front/rear wheel torque split and thereby produce the best balance between traction and steering response.
*3: AYC (Active Yaw Control)

AYC uses a torque transfer mechanism in the rear differential to control rear wheel torque differential for different driving conditions and so limit the yaw moment that acts on the vehicle body and thus enhance cornering performance. AYC now features yaw rate feedback control using a yaw rate sensor to more accurately determine the cornering dynamics on a real-time basis. And the addition of braking force control allows the system to realize vehicle behavior that more closely mirrors driver intent.

*4: Sport ABS (Sport Anti-lock Brake System)
ABS allows the driver to maintain directional control and keeps the vehicle stable by preventing the wheels from locking under heavy braking or when braking on slippery surfaces. The addition of yaw rate sensors and brake pressure sensors to the Sport ABS system has improved braking performance through corners.

*5: Active Stability Control (ASC)
The ASC system stabilizes vehicle attitude while maintaining optimum traction by regulating engine power and the braking force at each wheel. ASC elevates vehicle stability by suppressing skidding in an emergency evasion maneuver or as the result of other sudden steering inputs. It also improves traction under acceleration by preventing the driving wheels from spinning on slippery surfaces.

6. Peace of mind / Safety specifications

* Standard on GSR are driver and front passenger SRS dual-stage airbags (driver dual-stage airbag standard on RS), the inflation pressure of which is controlled to match the severity of the impact, and the driver SRS knee airbag used on the Delica D:5 and Galant Fortis. SRS side and curtain airbags are available as factory-fitted options.

* GSR comes standard with discharge headlights and the adaptive front lighting system (AFS), in which auxiliary lights turn in the same direction as the steering wheel to increase the area of road illuminated and improve driver visibility at night.

* Rain-sensitive auto wipers that adjust wipe speed and interval to rain intensity and auto light control that monitors the intensity of peripheral light, turning the headlights on or off accordingly, are factory-fitted options on the GSR.

* All models come standard with an engine immobilizer and security alarm to deter theft. (The security alarm is standard on the GSR only.)

7. Audio / Utility

* The GSR trim level is available with the Mitsubishi Motors Communication System (MMCS) as a factory-fitted option which comprises a 30Gb hard disk drive audio/navigation system with 7-inch LCD screen.

* Available as a factory-fitted option on the GSR is the Rockford Fosgate premium sound system – well received on the Outlander and other models. The system uses a 650-Watt amplifier and nine speakers to deliver awesome high-fidelity sound assisted by the use of acoustic and damping material to seal off openings inside the doors and turn them into speaker boxes.

* Available as a factory-fitted option on the GSR is a keyless operating system that allows the driver to lock or unlock the doors and to start or stop the engine without having to take the remote unit out of pocket or handbag.

* Standard on all models is the Mitsubishi Motors ETACS (Electric Time and Alarm Control System) system. The system controls the operating environment for the Comfort Flasher – a dab on the flasher stalk causes the turn signal to flash three times; very handy when changing lanes – and the headlight auto-off feature which prevents accidental drainage of the battery and other electronic systems fitted to Lancer Evolution X.